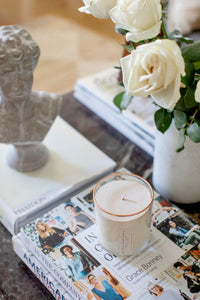 9 oz Archive Candle - Spring in the South
A classic southern scent that is reminiscent of the aroma of Charleston in the spring. It is the mix of honeysuckle, jasmine, basil and herb. It has notes of musk, clove and sandalwood with a touch of vanilla.
Fun Fact- Yellow Jasmine is the official state flower of South Carolina. Although the Common Jasmine is popular in Charleston, SC as well. Once spring is here Common Jasmine blooms all over in the city of Charleston, SC. It is beautiful and fragrant! Spring in the South is the perfect fragrance to bring that feeling into your home.
Note Profile:
Top: Honeysuckle, Neroli, Ozone
Middle: Jasmine
Base: Powder